Comprehensive solar performance & safety checks Sunshine Coast
Is your solar system generating at maximum efficiency? A routine solar inspection can help uncover any issues that could be occurring, identify faults or solar repairs, and ensure the system is producing the most solar power possible. Andy Johnson Electrical Services solar specialists offer $399 comprehensive solar inspections for solar PV systems throughout the Sunshine Coast, Gympie and Moreton Bay regions.
Our experienced solar electricians use a range of techniques including the latest in electrical thermal imaging technology which can be used to identify hot spots in solar panels, interconnections and DC isolators that are unseen to the naked eye.
Booking A Solar Inspection Today
Common problems with solar power systems
The biggest issue that our solar inspections uncover is a lack of maintenance. Often homeowners get the system installed and assume it's a set-and-forget infrastructure. And while most solar PV systems don't need much servicing a regular maintenance check ensures that the system is producing the maximum amount of electricity possible providing the best return for your investment.
At a minimum, homeowners should carry out the recommended maintenance schedule set out by the solar manufacturer. However, to ensure the system is working effectively and uncover any hidden issues that may be developing a professional solar inspection is recommended.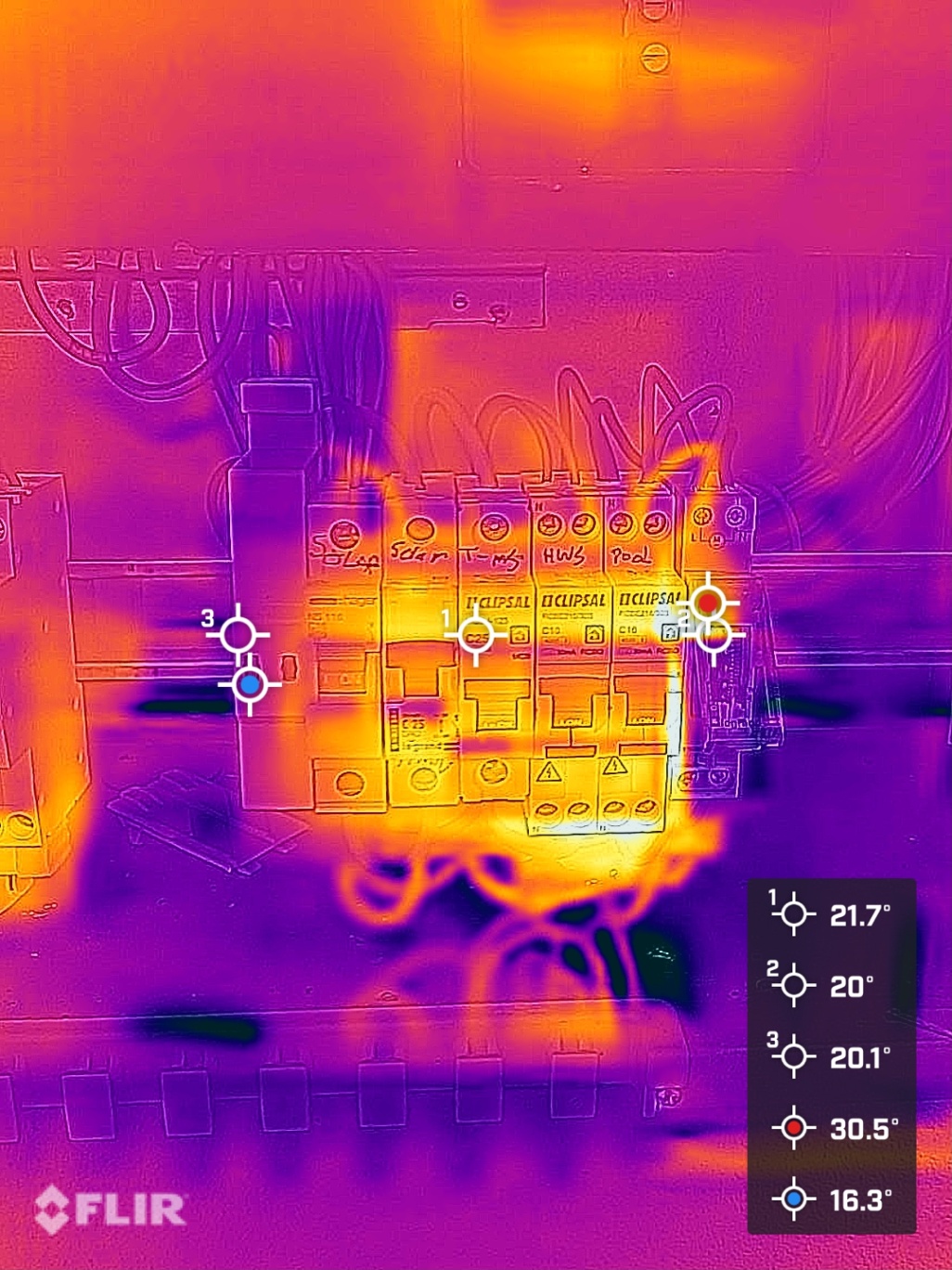 Regular solar efficiency checks and maintenance can help to reduce repair costs and extend the life of your system.
A buildup of leaves, dust or debris on panels
Storm damage from strong winds or hail
Water damage causing corrosion
Damage from falling branches<
Faulty installation practices
Substandard components or panels
Changes in the surrounding area - eg trees growing and shading panels, construction of buildings that block the sun from the solar panels, etc.
These issues can mean your solar PV system is not producing enough electricity or in some cases not generating electricity at all.
Signs your solar system is not working effectively
Your electricity bill increases unexpectedly
The solar inverter displays an error message
A visual inspection shows signs of panel movement, wiring exposure, or any other damage.
Burn marks, melted plastic or cracks on any solar component
Solar panels rattle in the wind
Solar inspection service
The solar inspection covers all aspects of your solar system from the solar panels on the roof to the connection at the switchboard.
Inspect the solar panels - checking for deterioration, debris or dirt buildup.
Panel mounting system review - ensuring all panels are securely attached and there is no debris buildup or evidence of pests underneath.
Wiring, cabling and fittings are insulated and free from damage.
The switches are working properly.
Inverter inspected for fault recordings.
All components are electrically checked.
Your solar specialist will also review your system to identify any recalled components. The ACCC occasionally recalls solar components which have been found to be faulty, dangerous or pose a fire risk such as the Avanco branded DC solar isolator switch.
Keep up to date with the ACCC Product Safety Australia recalls list here - productsafety.gov.au
Your local Sunshine Coast solar specialists
Ensure your solar system is working effectively and at its most efficient level with a comprehensive solar inspection from Andy Johnson Electrical Services. Book a solar safety and performance inspection on 0487 897 180 or complete our quick online solar inspection booking request today.