Trusted Ceiling Fan Installations
Professional Ceiling Fan Installations
Are you looking for a new ceiling fan? Whether it's an indoor or outdoor fan, we can make sure you have the right one installed in no time at all.
We offer the supply and installation of a range of top quality ceiling fans throughout Sunshine Coast, Gympie, and Moreton Bay. Our experienced master electricians will ensure you get the perfect fan for your home or business.
You won't find another company that offers such high-quality service at affordable prices! We are committed to providing our customers with excellent service from start to finish – so they know exactly what they need to do when it comes time for their next project. Let us help you today. Contact us today about getting an expertly installed ceiling fan in your home or business!
Book Ceiling Fan Installation
Benefits of Ceiling Fans
Ceiling fans are a simple and low-cost way to cool down your home during muggy Queensland summers. The air circulation from fans produce a cooling effect and can make the space feel cooler. A fan will help maintain the comfort level. You should use a fan alongside your aircon for best results and also cut back on energy consumption. Fans consume less energy and will help you save money on
Your ceiling fan can also help you stay warm in winter. Nowadays ceiling fans come with a winter mode that reverses the blade's direction of rotation. This action pushes the warm air down and redistributes the heat flow making the room feel warmer.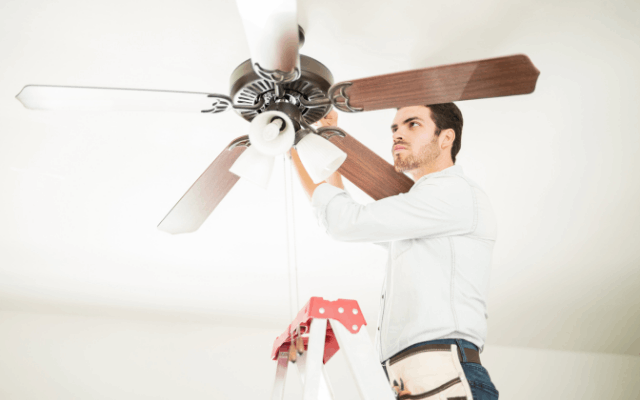 How to Choose the Right Ceiling Fan?
When purchasing a ceiling fan, think of factors like:
Where are you going to use the fan - indoor or outdoor? The location of the fan, indoor or outdoor will determine the style of your purchase. An outdoor fan will be resistant to moisture and would be made from a rust-proof material.

What's the ceiling height - low, standard height or high ceiling? A low ceiling will require a fan without a down rod whereas a high ceiling will need a fan with an extension rod

Your style preference and fan blade choice?

Noise level

Do you require a fan with lights?
Consider all these factors before you purchase your ceiling fan. If you have a ceiling fan and need someone to install it, we are the trusted sparkies you should call.
Your Friendly Local Ceiling Fan Installers
Look no further than us for your ceiling fan installations. Let us help you, simply give us a call on 0485 800 160 or complete our online enquiry form.